Many people dread going to the dentist. However, developing good dental hygiene from a very early age is extremely important. Knowing when to take your baby to their first dental appointment and finding the right pediatric dentist are two of the first steps towards helping your child develop good habits for taking care of their teeth.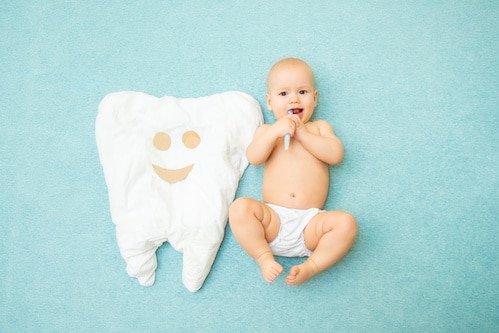 Why a Pediatric Dentist Rather than a General Dentist?
Although general dentists are trained to treat children and adults, having a pediatric dentist treat your child provides many benefits. Pediatric dentists receive the same schooling as general dentists, but receive an additional two years to specialize in treating children. This extra training prepares pediatric dentists for oral issues and treatments specific to children. It also provides education on how to approach children with different needs. Furthermore, pediatric dentists have tools that are the right size for tiny mouths. This can help their visits be more comfortable and put your child at ease.
When and Why Should My Baby See the Pediatric Dentist?
Starting regular dental checkups at the recommended age develops a relationship between your child and their pediatric dentist early on. This can help reduce if not eliminate the stress and anxiety children face regarding dental visits. According to the American Academy of Pediatric Dentistry, your baby should have their first dental visit when they get their first tooth or by their first birthday. (1) Preventative measures can be taken as your baby's teeth are coming in to reduce the likelihood of them getting cavities. Since cavities can cause many issues, from gum disease to ear infections, early prevention and intervention are very important!
Finding the Right Pediatric Dentist for Your Baby
When selecting a baby's dentist, one of the most important things you can do is read their reviews. Doing an online search for "Pediatric Dentists near me" is one of the fastest ways to find them and access their ratings. Open your search results in maps and select the one you want more information on! Keep in mind the age of the reviews as many medical offices regularly update their policies and procedures.
Once you have a list of potential dentist offices for your baby, call them with any questions you may have. This could potentially reduce the size of your list. Many pediatric dentist's offices will even let you schedule a consultation to introduce your baby to the dentist and environment.
What To Expect at Your Baby's First Pediatric Dentist Appointment
During the first appointment with your pediatric dentist, they are likely to ask questions about your baby's feeding habits, whether or not they use a pacifier, and anything else that could affect their tooth and gum development. They will give you tips on how to help your child's dental hygiene and what to expect as they grow. You will be able to ask questions, so bringing a list with you is a good idea!
Your pediatric dentist will also do an exam on your baby's mouth and discuss their findings and recommendations with you. Benefits of having a dentist who specializes in pediatric dentistry include things such as knowing the staff and office are kid-friendly and used to working with children of all ages as well as the comfort of your baby's dentist familiarity in working with nervous parents!
Even if your child is past the recommended age of their first dental appointment, that is okay. The important thing is to go ahead and get them established with a good pediatric dentist as soon as possible to ensure that they have healthy teeth and gums for the development and growth of the rest of their teeth.
Make Your Baby's Appointment Today!
At Around The World Pediatric Dentistry, our goal is to make your baby's first dentist appointment as pleasant an experience as possible to help build a healthy start to their dental future. Contact our office to make your baby's dentist appointment today, or call our office at (203) 489 – 2112.