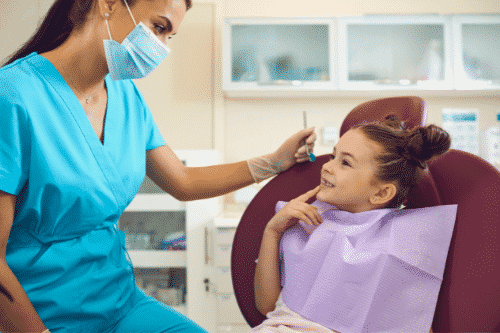 Having your baby grow new teeth is an adventure that can be exciting and scary for you, as a parent. You may wonder who could possibly have the answers to all the questions you have regarding your child's teeth. A pediatric dentist is your best buddy at this point. They are dentists who are specially trained to take care of your baby's teeth up till the end of their teen years. A pediatric dentist can do everything your dentist can, ranging from treatment for teeth and gum problems. They also know the exact concerns to look out for at different stages of childhood. Pediatric dentists would definitely have answers to any concerns, whether it is:
Broken teeth
Dental cavities
Knocked-out teeth
Tooth pain and pressure
Any other questions you may have regarding your child's dental health
Very importantly, if your child has special needs, you have no worries, as pediatric dentists are expertly trained to help your child achieve the most effective oral health and hygiene routine.
Now, if you have been wondering 'How do I locate a pediatric dentist near me? This is a direct guide on how to locate the nearest pediatric dentist in your area.
Type in "pediatric dentist near me" in Google Maps:
This is the first and most direct step to locating a pediatric dentist near you. Google Maps will compile a list of pediatric dentists around you, clearly stating their address, brand name, directions, and contact information. Super easy, right?
Use the search directory offered by the American Academy of Pediatric Dentistry:
Here, all that is required is to enter your zip code and how much distance in miles you're willing to travel from your home. After doing this, you will be shown a list of pediatric dentists in your area.
In order to make sure you make the best choice for your child, you might want to consider running a background check on the pediatric dentists you find on Google. You might be wondering how? It's easy. Click on the link of the pediatric dentist you find on Google Maps, and access the previous reviews from other customers. This would help you determine the best choice for your child. All certified pediatric dentists are terrific at their craft, no doubt, but the reviews go a long way in guiding you to the best option.
Remember to link your child up with a pediatric dentist, not only when the need arises but for regular check-up as healthy teeth are vital for a full, healthy smile. A happy child is a child with the best oral health.
Set Up an Appointment!
It is our hope that your questions about "how to find a pediatric dentist near me" have been answered successfully. At Around The World Pediatric Dentistry, we welcome you to come and get introduced to our pediatric dentist. Contact our office by calling (203) 489-2112 or click to set up your child's appointment. We look forward to helping your child keep a beautiful smile.